Start the Year with Kindness … Towards Yourself
I'm awake pretty early this morning. I was going to go back to sleep, but I was inspired to get on the computer by my friend's goal for 2021. My friend set a goal for 2021 to "see the sea stars." I find that simple goal so inspiring and so in tune with today's idea that I couldn't wait to start writing about it. The last few posts have been all about goal setting in various forms – SMART goals, mini-resolutions and building Atomic Habits – and I wrote in an earlier post that today would be a return to the "woo." It's not woo in the sense of crystals and energy medicine, but it may feel woo because today is all about emotion.
No Resolution Method
Today's post isn't about setting goals or selecting words. In fact, if you like, it's the "No Resolution" method. 2020 has been a hard year for many people. For some, it may have been a little unusual, but tough years might be more the norm for any number of reasons. And setting goals and resolutions might feel like the realm of privilege. My suggestion today is not to feel like you have to set a resolution. I included this in part for myself. I suffered some tough losses in 2020 including closing my business of 12 years. With starting the new business, I've had a lot on my to-do list, especially as we approach the year-end transition, so the idea of adding literally any resolutions to my to do list feels a bit overwhelming.
So I may not make any resolutions this year. I may or may not pick a word. I may just enter in 2021 gently with no expectations, but a little bit of hope.
No Resolutions ≠ No Goals or No Growth
Does that mean I won't grow or change in 2021? Does that mean I won't have goals? Does that mean I'll stop tracking my habits in my planner? Not at all. I'm starting a new business which I'm very excited about. I've been gently exercising throughout 2020 and I'm looking forward to stepping up my workouts. I've been working on my health throughout 2020 and that work will continue. And I just ordered my new planner. I even started a vision board on Pinterest thanks to a friend's suggestion (just make a new board called Vision Board and pin things to it – very easy!). I'm just not stressing about setting and sharing any specific resolutions.
Embracing No-Resolutions Vs. Rejecting Resolutions
Over the years, I've definitely had people tell me they don't do resolutions, some calmly and some with some pretty strong emotions. People have told me they don't do resolutions because they don't matter or they never happen anyway. Resolutions are expressions of hope we have for ourselves. When we are angry or discouraged with the concept of resolutions, this may reflect our own emotions towards ourselves. I've mentioned several times in this series to start small and build success for that very reason. If you feel like resolutions are not for you, I hope that you can permit yourself a no resolution policy that isn't linked to anger, discouragement or frustration.
Start the year with kindness towards yourself means allowing yourself a no resolution year (or more) that is about letting yourself be, not feeling stress around making a resolution, recognizing that you are growing – changing – building – without needing to add any other structure to it, and embracing (a no resolution year) rather than rejecting (resolutions). It's a subtle change in how you think about a no resolution year, but I believe the results can be profound.
And if no resolutions or goals feels overwhelming in the other direction, if you want something to plan for, if you want one easy resolution, maybe seeing the sea stars in 2021 has appeal for you too?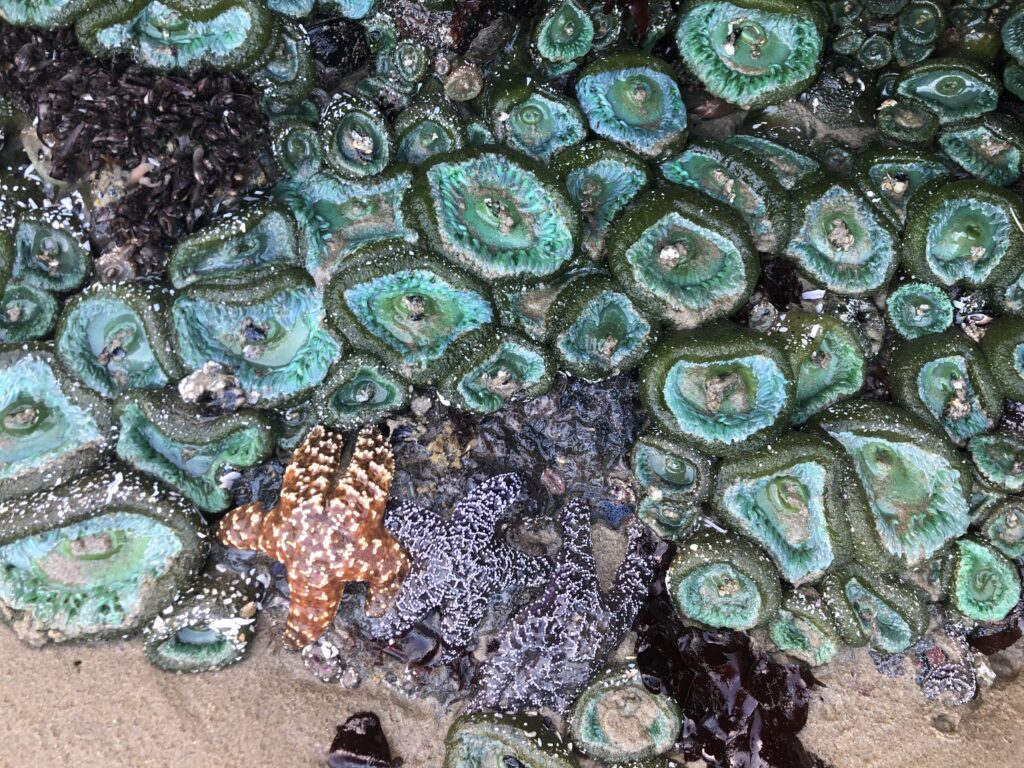 This is the 5th post in a 6 part series about New Year's Resolutions. I'm posting a mini summary on Facebook and Instagram, so follow me on the platform of your choice if you'd like to ensure you don't miss the next piece on resolutions or come back tomorrow for another idea.