Established patients may order supplements directly through Full Script. At your visit, if supplements are recommended, I will send a recommendation to Full Script. The supplements I recommend are vetted to ensure high quality and effective in my experience with patients. They may not be available on store shelves or other online retailers. Purchasing through Full Script IS purchasing from me and is a way to support my business, but is never required.
Full Script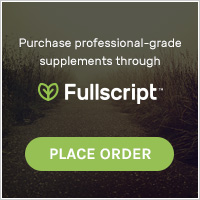 Wellevate
Full Script and Wellevate have merged! If you have been using Wellevate, watch your email for an invitation to migrate over to Full Script.
Full Script is set up so that you can browse and purchase any products you like to ensure that you can purchase similar products or different flavors than I may have recommended. I encourage you to check with me if you are considering adding something new and to keep me in the loop if you add or change supplements in your regimen.
Purchase Supplements In Office
I will be carrying a limited group of supplements in office. Supplements may be purchased during appointments. If you would like to purchase supplements from the office outside of an appointment, please contact me by phone or text message.