My Favorite Make Ahead Recipe – Chickpea Salad
I'm posting this recipe in advance of an article I have coming out with some helpful tips for a healthier holiday. While the holidays usually involve a lot of cooking already, I highly recommend having some non-holiday foods prepped and ready to go. When you're saving those "special" sides for tomorrow, but you're hungry today, you'll be grateful to have something to eat. I also generally don't recommend skipping meals during the holidays.
I'm sharing a specific recipe for smashed chickpea salad below, but here are some other ideas for ingredients or meals you can prepare in advance:
Frozen broccoli – on busy nights, steam, top with a squirt of lemon juice, salt and pepper
Premade salad mix, they even come with dressing! Add some protein and dinner can be done.
Purchase a veggie tray or cut up a few different veggies. Add a side of hummus or your other favorite dip and use this when snack attacks hit. Sure, add some pita chips, too.
If you know there are holiday events happening in the evening that don't include dinner, consider making a casserole ahead that you can throw in the oven while you're getting ready. I like this vegan lasagna with lemon basil cashew cheese
Anything you know you can make with pantry and freezer staples – have those groceries on hand!
I like the following smashed chickpea salad because it's incredibly versatile. I can change the flavor by adjusting the seasonings and it becomes a different meal based on how I eat it – on bread, in a wrap, on a bed of salad greens. This recipe is naturally vegetarian, but can be made vegan by using a vegan mayo. For those of you who aren't vegetarian or vegan, this is an easy way to include some healthy beans in your diet, but if you really don't like chickpeas, you can see there are a lot of similarities here to egg salad or chicken salad. Substitute your protein and adjust other ingredient quantities as needed.
Smashed Chickpea Salad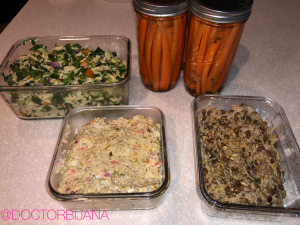 1 can chickpeas (garbanzo beans), drain and rinse

about 2 cups if using home cooked beans

2-3 Tbsp mayo, vegan mayo or Greek yogurt (here's a vegan mayo you can make at home)
1-2 Tbsp mustard – I like stone ground, but use whatever kind you have and like!
2 Tbsp pickle relish (or chop up some pickles)
2 Tbsp finely diced celery
2 Tbsp finely chopped onion – red looks and tastes great, but use whatever you have and like
2 Tbsp finely chopped pickled carrots and garlic (optional)

I make these quick pickled carrots. Any carrot remnants during the pickling process (and after I eat most of my pickle spears) end up finely chopped and added to a little jar of brine just for the purpose of adding to this chickpea salad.

Salt and pepper to taste
Splash of apple cider vinegar
Seasoning Options:
For a more "eggy" flavor and appearance, add:

1-2 tsp dill
1 tsp kala namak (Indian black salt)
1/8 tsp turmeric (for color)

For a curried version, add:

1/2 -1 tsp curry powder
1/8-1/4 tsp turmeric
fresh parsley
2 Tbsp lemon juice
2-4 Tbsp yellow raisins
Smash and Mix
Smash the chickpeas. You can do it with a potato masher or fork, but I like to throw them in the food processor. Pulse for a chunky texture or let it run for a smoother consistency. Don't worry – it's not going to be anything like hummus even if you make it super smooth! Roughly chop your veggies – I never measure them, so amounts are approximate. Use what you like, omit what you don't. When everything is relatively small, give it another chop – the finer, the better, so they mix in easily. Add mashed chickpeas and chopped veggies to a bowl. Add all other ingredients. Taste and adjust seasonings. Store in the fridge.
Serve It Any Way You Like!
Serve hot or cold
Open faced on toast with fresh slices of tomato
As a sandwich between two pieces of bread with lettuce, tomato and cucumber
Added to a tortilla or wrap
Scooped onto a green salad
Scooped onto a serving of whole grains
Recipe Credits
Below are links to the original recipes that I used when I started my chickpea smashing journey. Traci and Lucy, if you find this post, thank you, thank you, thank you for your amazing recipes. Smashed chickpeas really are a staple at my house!
Original Recipe – Traci at VanillaandBean.com
Curried Recipe – Lucy at TurniptheOven.com