In honor of National Spinach Day, I wanted to share a few of my favorite ways that I incorporate spinach in my diet. I hope these ideas will inspire you to eat some greens too! Some of these are so simple that they aren't really even recipes, but that's what I love about spinach. It's an incredibly versatile vegetable, full of healthful nutrients and easy to prepare.
Please note that while spinach is generally safe for all in small quantities, persons with gout, a history of kidney stones or those using blood thinning medications should speak to their doctor before increasing their consumption of greens and spinach.
Raw Options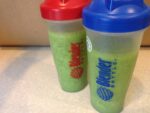 The reviews are mixed on eating your veg raw or cooked. Many times, it depends on the nutrient in question, so I usually recommend eating some raw and some cooked veggies. If there is a veg that you only like raw or only like cooked, eat it the way you like it. To me, spinach is great either way. A couple of raw options for spinach include: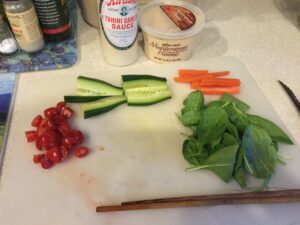 Spinach salad – spinach can be mixed with other greens or eaten as the main green in a mixed salad with the dressing of your choice (this is one of my favorites)
Green smoothies – I love including spinach in my smoothies – I find the taste to be mild enough that I don't notice the greens as much. One of my favorite green smoothies includes peaches and spinach – it's the taste of summer!
Adding fresh spinach to a wrap. The pic here shows a classic wrap set up – fresh veggies, pickled carrots, hummus and garlic sauce. Add what you like and there's no quicker or simpler lunch.
Simplest Cooked Options
One of my favorite ways to include spinach in cooked dishes is to add it right at the end. You can add whole, roughly chopped or chiffonade cut spinach (cut into small thin ribbons) into many dishes without changing the taste much. I like to add spinach as the base of my bowl dishes before adding freshly cooked hot grains such as polenta or quinoa. I mix it in and the heat from the grains gently wilts the spinach while I pile on my protein and other veggies. If you're making a big one pot meal, you can just add the spinach at the end and stir in. I do this a lot when making pasta dishes. After draining the pasta, I'll add spinach and sauce and stir it all up. It doesn't get any easier than just grabbing a handful of spinach and tossing it the bowl or pot.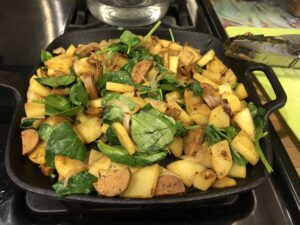 Two Recipes
These are two of my favorite recipes that I actually make at home that include and feature spinach. The Gingery Cous Cous with Spinach recipe was developed by a college friend of mine and we ate this on repeat during the summer we lived together in Ann Arbor. This was one of the healthiest things we ate that summer as she worked at the ice cream shop and I worked at a cafe that sold pastries and we both got to bring home a lot of products! This became one of my go-to potluck dishes, because it's simple to make, enjoyed by many and lighter than a lot of potluck fare.
The Spinach Pesto recipe is my own recipe and the reason I didn't know that pesto normally contains cheese for the longest time. I like to let the spinach pesto sauce rest overnight in the refrigerator for the flavors to blend. I also usually use a heartier serving of the sauce with my pasta than a typical pesto. That makes this dish high in protein and very filling, perfect for cool evenings after a full day!
Spinach Pesto
Ingredients
1 bunch spinach
4 cloves garlic
1/4-1/2 cup pine nuts or chopped walnuts
1/8-1/4 cup olive oil
1 15 oz package firm tofu
1 tsp dried basil
1/2 tsp fresh ground pepper (add more to taste at table)
1/2 tsp sea salt (add more to taste at table)
1 large fresh tomato, chopped
2 cups pasta
parmesan cheese or nutritional yeast (optional topping)
Instructions
Add spinach, garlic, nuts, olive oil and tofu, basil, salt and pepper to food processor. Gently pulse until all ingredients are chopped and blended, but do not overprocess. Let mixture rest in the refrigerator for flavors to blend, the longer the better including overnight. Cook pasta to desired tenderness and drain. To a warm skillet, add cooked pasta, a portion of the tofu-spinach mixture and the chopped tomato. Turn until warmed through. Serve with nutritional yeast or parmesan cheese sprinkled on top (optional).
Gingery Cous Cous with Spinach
Ingredients
1 bunch spinach or 3-4 cups of spinach leaves
1 cup fresh basil leaves
approx 1 inch fresh ginger
1 English cucumber
1 cup grape or cherry tomatoes
4 cups cooked cous cous
salt and pepper to taste
Instructions
Cook cous cous according to package directions. Trim and roughly chop spinach and basil – large pieces are fine for this recipe. Grate about 1 inch of fresh ginger. For this recipe, I do not recommend using dried or powdered ginger – the flavor really comes from the fresh ginger. Add ginger, basil and spinach to a large glass or metal mixing bowl. When cous cous is ready, add hot cous cous to the spinach and ginger and stir well to combine. We are relying on the heat from the cous cous to wilt the spinach. Let that sit while you chop the cucumber into bite sized pieces and cut the tomatoes into halves or quarters. Add cucumber and tomato to the bowl and mix again. Taste and add salt and pepper to taste.
Bon Appetit!